RALLY & OBEDIENCE.

Zena is training for Rally. She recently received her RN title with a high in trial. She also has two informal legs and one for a pre CD. Hopefully she will do a pre CD this year.
CONFORMATION

Hailey will start showing this year. She now has 5 points.
Giggsy (GCh. Saucydog's Giggsy AGNS AGNJS, CAD) is now a grandchampion , shown by his owner Alice Leung and Jen Knudsen. He is now showing and pointed in the U.S. He is the sire of our 2013 litter and a litter at Shintangle Kennels. Alice has also put four agility titles on him.
Mitzi (Saucydog's Majestic Mitzi) has finished her championship at one year of age. She is a younger sister to Giggsy. She is the mother of our 2014. 2015 and 2016 litters.
BARN HUNT.
All of our dogs are excited about this new sport. The rats are safe and well protected, but the dogs love finding them.
LURE COURSING
Our youngsters, the toller Zena and cairn Hailey love chasing a plastic bag on a pully line around a course. Brings out their instinct to chase. There is a new title, Chaseability, and both dogs have passed twice.
HUNT TESTS
Zena has began training. She now fetches bumpers and doikens.
REBA, SALLY, PIPPIN. IVY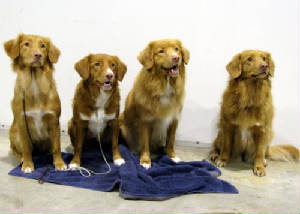 LISA - NEW CHAMPION